RI Affiliate for Keep America Beautiful
FOR IMMEDIATE RELEASE
June 13, 2017
Donna Kaehler – KBVB Coordinator
401-724-2200
"Do Beautiful Things" Contest in
Blackstone Valley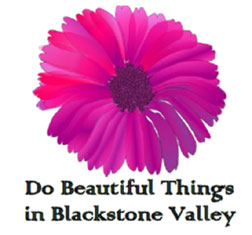 PAWTUCKET, RI –  Keep Blackstone Valley Beautiful (KBVB) wants to know what "beautiful things" you are doing here in the Blackstone Valley.
"Do Beautiful Things" is a national Keep America Beautiful campaign, designed to share acts individuals organize and carry out that improves their community.  Keep Blackstone Valley Beautiful is excited to bring this program locally, in an effort to encourage volunteers to continue beautifying our area all throughout the year.  KBVB, is the Rhode Island affiliate of KAB, which operates under the Blackstone Valley Tourism Council.
KBVB just completed the annual Great America Clean Up, where we held multiple Earth Day clean ups in the Blackstone Valley.  Over 900 volunteers went to work and removed over 21.5 tons of litter that was polluting our streets, parks and waterways.  These volunteers participated in 5 town-wide events in Pawtucket, Burrillville, Woonsocket, North Smithfield and Smithfield.
"Let's not stop there.   Many people continue to do good work year round. We would love to know and share these great successes", explains Donna Kaehler, coordinator for KBVB.
Keep Blackstone Valley Beautiful is looking for groups or individuals who are continuing to beautifying our valley.  Let us know if you are planting flowers at your church or favorite park, cleaning litter from a street you happen to see every time you travel, or improving a recycling program at your place of work.  The sky is the limit.
KBVB wants to share these great actions and will awarded 3 lucky organizers, 2 box seat tickets to an upcoming Pawtucket Red Sox game. Game dates are June 30, along with two special firework night games on July 2 and July 3, 2017. These tickets have been generously donated by MTG Disposal, a local company who promotes proper waste removal and recycling in Rhode Island.
Send KBVB details and pictures about your project. Submission forms and further details are available at our website, keepblackstonevalleybeautiful.com or by calling 401-724-2200.
Submissions for these winning tickets will be accepted until June 29th, 2017.
Keep America Beautiful's goal is to encourage "beautiful things" happening all throughout the United States.  People are happier and healthier when they have a beautiful place to live.  Watch how simple actions of caring for your community leads to a better world we can all enjoy.
Preview YouTube video: Keep America Beautiful – Do Beautiful Things